Monthly Archives:
February 2015
RIVERWAY APARTMENTS
230 RIVERDALE AVENUE, BROWNSVILLE—BROOKLYN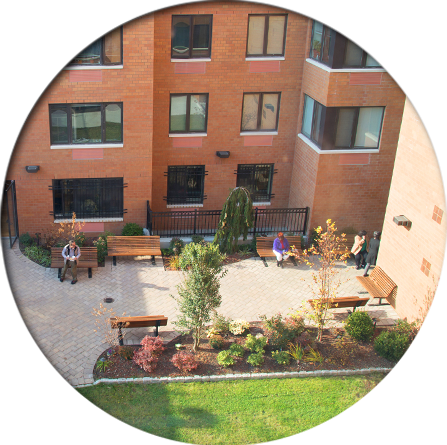 More New Yorkers are choosing to remain in their city as they age, creating a clear demand for more affordable housing geared to support their needs. Riverway Apartments is one such building: a seven-story affordable senior living facility in the Brownsville section of southeastern Brooklyn for tenants aged 62 and over. The residence, which opened to widespread community acclaim, has 114 one-bedroom apartments, all of which are rented to households earning up to 40 or 50% of Area Median Income (which for individuals translated to annual incomes of no more than $23,240 or $29,050 respectively during Riverway's initial rental process). The tenants, who are most often on a fixed income, pay no more than 30% of their adjusted gross monthly income for rent. The remainder of the cost is subsidized by project-based Section 8 vouchers provided by the New York City Housing Authority (NYCHA), one of several agencies with which HDC collaborated on the development.
FEATURES & AMENITIES
The building features a landscaped rooftop garden, which helps to reduce heating and air conditioning costs by absorbing less heat than a traditional roof. All common areas are equipped with LED lighting, which is the most efficient available, its bulbs using at least 75% less energy than traditional incandescent bulbs and last 25 times longer. Additional special features include a ground-level outdoor landscaped recreation area, an activity room, a private lounge, a laundry room, and storage space. Eighteen parking spaces, including four spaces for drivers with handicaps, are available to tenants at no cost. All interior and exterior areas are fully accessible as the entire building is designed to accommodate people with disabilities. Common area hallways have handrails on both sides. There is 24-hour security on-site, and a monitored video feed operating in real time off-site.
The Senior Center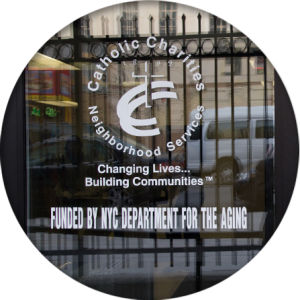 Of particular note is the building's Senior Community Center, which at nearly 10,000 square-foot of ground-level space, is among the largest in any affordable housing development in Brooklyn. It is run by Catholic Charities, funded by an operating contract with the New York City Department of the Aging (DFTA). The Senior Center offers case management services and benefits analysis, exercise and health programs, intergenerational recreation programs, computer literacy classes, and other free support services. It is also a pleasant place for seniors to socialize and enjoy a meal with their peers. Services are provided primarily for the residents of Riverway Apartments, but are also available to other seniors living in the community.
THE APARTMENTS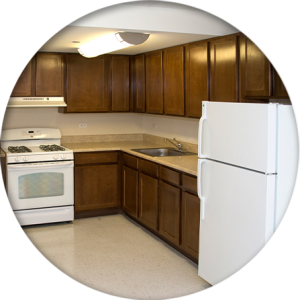 Select units at Riverway are already handicapped-accessible and all can be readily adapted to meet state and federal handicap accessibility requirements and address the changing needs of the residents as they age. Every bathroom has a shower with a seat, oversized medicine cabinets, and appropriately placed handrails. There are also casement windows, which allow easy opening and closing, and tenant-controlled dual heating/air conditioning units. Frost-free refrigerators and self-cleaning ovens make it easier for seniors, some of whom are living alone for the first time in their lives, to do their own housekeeping. Allaying the fears of family and friends, each apartment also comes equipped with a high-tech audio/visual security system. Emergency call buttons link to a live, off-site security system that connects directly to the City's Emergency Medical Services (EMS).
The mixed-use senior residence was designed by Terjesen Associates, an architecture firm with a reputation established over 30 years for quality design of healthcare, residential, and commercial properties.
THE RESIDENTS OF RIVERWAY APARTMENTS
I was afraid I would be a burden on my children. And that I would lose my independance. But here at Riverway, I have my independence. I'm living alone and loving it!
Elizabeth James
Elizabeth James, age 74, retired after working in banking for over 30 years, including 10 years on the night shift at Bank Leumi. Prior to her move to Riverway, Elizabeth had lived in the Bedford Stuyvesant section of Brooklyn where she and her late husband raised their children.
In January 2013, Elizabeth was forced to move after being unable to meet a steep rent increase. But after applying to Riverway Apartments, she is now happily ensconced in her apartment there. Elizabeth is enjoying how truly "new" it all is – from the new appliances she has in her unit to the new friendships she's cultivating in the Senior Center. "They have trips, group meetings, guest speakers, even a nutritionist and individual counseling. I go to them all," she says and adds that when she recently broke her wrists, "Not a day passed when one of my neighbors wasn't bringing me food or checking up on me." And while her children were initially worried that their mother would be on her own for the first time in her life, they needn't have been. "I was afraid I would be a burden on my children. And that I would lose my independence," says Elizabeth, "But here at Riverway, I have my independence. I'm living alone and loving it!"
THE FINANCING STRUCTURE
Riverway Apartment was funded by a consortium of public and private entities, including HDC, the U.S. Department of Housing and Urban Development (HUD), and The Dormitory Authority of the State of New York (DASNY). The development of Riverway Apartments was a joint venture between SKA Marin, Inc. (a for-profit developer) and The Calvary Church of God, Inc. (a nonprofit developer).
The development was built on land formerly owned by New York City, which was conveyed by The New York City Department of Housing Preservation and Development (HPD) to the developer at a cost below market rate. Limiting the purchase price of the land acts as an additional subsidy, helping to ensure the targeted affordability by reducing the total cost of developing the building. Of Riverway Apartments' total development cost of approximately $36.1 million, HDC provided $20.2 million in tax-exempt bonds toward construction financing that was paid down to $7 million after construction was completed. HDC also provided $6.3 million in subsidy financing from its corporate reserves. HDC's funding of the tax-exempt proceeds allowed the project to generate $13.3 million in tax credit equity. HUD provided mortgage insurance for the project and DASNY provided $1.5 million in financing. HPD made $6.9 million in federal HOME funding available and NYCHA provided the project-based Section 8 vouchers to subsidize rents for eligible tenants.
THE DEVELOPERS
SKA Marin, Inc. is a well-known real estate development and consulting firm, specializing in affordable housing, senior living, and community development in the New York metropolitan area. The firm has had a presence in New York affordable housing development since 1985 and was selected to develop this site through a competitive process.
Sydelle Knepper, founder of SKA Marin, has more than 25 years of experience in community-based development, public policy consulting, and construction management. In addition to the comprehensive services and amenities, Sydelle's attention to detail is evident in several other aspects of the development she takes pride in, from the cascading waterfall in the ground-floor garden to the comfortable benches stationed on every floor so tenants can rest while waiting for the elevators. "You can go the extra mile in affordable housing, have that extra feature, so people can be proud to live here."
"I want to make this a home where seniors can age in place," Sydelle continues, revealing a commitment that is personal as well as professional. "I grew up with both my grandparents living in our house. It was a family, and this building is very much a family."
Management
It's a sentiment that clearly resonates with the building staff as well. Francisco Lazaro, Riverway's property manager, points to the many communal activities he observes, from early morning tai chi in the garden to monthly birthday parties hosted by management and tenant meetings that have turned into "international potluck dinners" where residents bring dishes to share with one another that are reflective of Riverway's cultural diversity. Observing and participating in that community makes his position at Riverway more than a job, as Francisco will readily admit. "I love all my residents here at Riverway," he says. "We are a family, so we work like that."
The Calvary Church of God, a joint partner in Riverway Apartments, has been very active in the Brownsville community for approximately four decades facilitating lunch programs, medical care visits and other support for local seniors among a wide array of other community services such as youth programs. These other services now include after-school care for children in the community aged 6–14, which is one of the programs operated out of Riverway's Senior Center and creates an interesting, intergenerational platform that has not gone unnoticed by Calvary's dedicated staff. "The interaction between the generations is delightful," says Steven Hutchinson, the organization's youth director.
I want to make this a home where seniors can age in place
– Sydelle Knepper